Kodak Brownie Starlet 127 Vintage Camera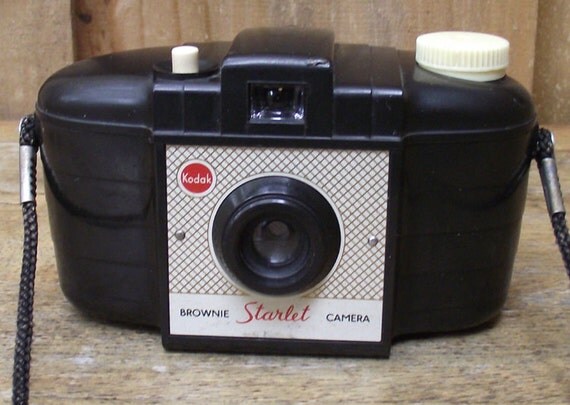 The Kodak Brownie Starlet Film Camera started out as a Kodak Brownie 127, a bakelite 127 film camera, made in England by Kodak Ltd. It was a popular snapshot camera in Britain, from 1952 to 1954 over a million had been made. A few of the first 127 model were exported to the US in 1953-4 where they were badged the Brownie Starlet, not to be confused with the more common Brownie Starlet. This Kodak Starlet film camera is in good used condition and currently available at Daytona Vintage on Etsy.
This camera has an unusual shape and is a must have for any vintage Kodak collector. Makes a great conversation piece, complementary decor, man room trinket, studio prop, or many other useful vintage applications.